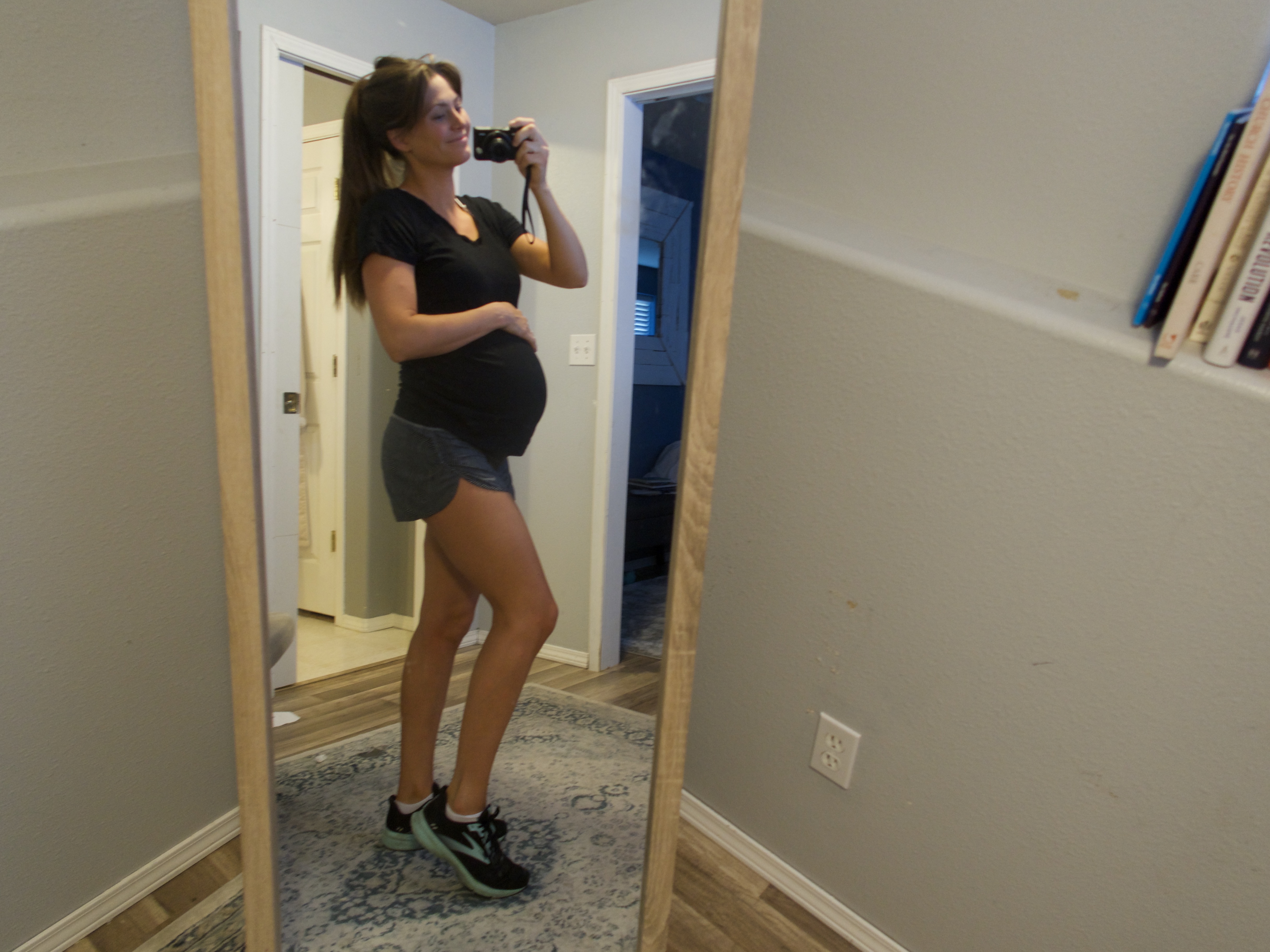 5:30am Good morning!

For the past 4 months I've been getting up at 5:30am to have my morning quiet time, workout, read, and prepare for the day. I'm expecting my energy to slow down in the next few weeks, but for now, I'm taking advantage of this energy surge and running with it. I LOVE summer mornings!

This is when I get to do my 3 mile morning speed walk, or 45 minutes of resistance training. I haven't craved working out in years, but, again, for the last 4 months I have worked out 6 times a week and have been blessed with no swelling, no back pain, and SO much energy! I never want to miss a day.


6:30am Shower, wash, fold, and put a way a laundry load, and do my skincare.


7am Time in God's Word, Journaling, and Affirmations reminding me of who I am as a child of God, Wife and Mother




7:30am The kiddos come out of their rooms where they have been enjoying their morning bags, fruit, and playing together. We usually make breakfast together these days, and they help me flip pancakes, make Kiefer, toast sourdough, set the table, peel the eggs, or stir oatmeal. A delicious hot breakfast is my favorite meal of the day, and I love that the children love to pile on the counter, or pull a kitchen chair around and help.




8am Breakfast and Morning Time!

I take advantage of the kiddos mouths being full, and habit stack as much truth, goodness, and beauty as I can before the day gets away from us. This morning time consists of a a rotating list of:

- Catechisms
- Hymn Singing
- Reading Proverbs
- Reading New Testament Scripture
- Scripture Memory
- Poetry Memorization

Regardless of what else we do, we ALWAYS read a portion of our morning book first. Currently we are finishing The Wind in the Willows, a rich, poetic animal classic.




8:45am ish Breakfast is cleared and it's time to get the wiggles out! The kiddos rush outside to play, while I clean the kitchen, make my own breakfast, and set out our homeschool for the day. If I didn't already prep some food for later in the day while we were making breakfast, I usually do that now.


9am Mama's Breakfast. (Usually. Sometimes I eat at 10-10:30am while the kiddos play out of doors again). Since I am intermittently fasting this pregnancy with a 16/8 schedule, I open my "eating window" for the day at 9am or so, and am usually done about 10 minutes later. It's a restful time for me to be able to eat in silence while the kiddos play.
Side note: Food photography may not be my thing.

9:30am We dive into our bookwork! If the two little boys are playing happily outside, I let them play, but if they want to come indoors, I put the two year old in his crib with a bottle and some toys for quiet time, and the three year old gets to choose a toy from the cupboard that only mommy can access. Usually he chooses magna tiles or trains.

Since this is summertime, we don't work for that long, but sitting down and working with each kiddo for even 15-20 minutes gives structure to our day and makes them feel accomplished. At this point, we just do math and a bit of penmanship in the morning, then the big kids go play and I work with the three year old on letter sounds and numbers.

10am Bible Time + Snack We get the 2 year old up, grab some fruit or a veggie, and all snuggle around in a circle for a Abeka-flash-a-card bible story. These stories were instrumental in my life growing up, and my children LOVE them! The big cards are out of print, so I snatch them up when I can. I pick one child to narrate after the story finishes, and the children don't let me skip this highlight in our morning.

10:15-30 ish Outside Time! The kiddos might go outside and play in the sprinkler on the trampoline while I do an indoor organizational project, meal prep for Sabbath or fold some more laundry. We might pick up the yard together and mow it, or do some reading. But today, we worked together to put our last garden planter together and plant the cucumbers! The kiddos keep telling me they want a garden, and they want to see things grow . . . so despite baby being born in two months, we planted tomatoes, lettuces, and herbs, and now cucumbers. (While looking forward to this years strawberry patch and raspberries to bloom. Gotta love perennials.)

**I didn't get a photo of the cucumber bed (which was much smaller than this one.) This was our main bed we put in a couple weeks ago. 12x4 took WAY more dirt to fill than I thought!
11:45-Noonish Lunch Time. Most days, we picnic in the yard. Today, the children grabbed the giant picnic quilt and helped me cart out Tuna with pickles and greek yogurt, apples and cashew butter, watermelon, and raw cheese slices, to the stroller, and I ran behind the children ("ran," as in clambered behind them huffing and puffing, as only a pregnant woman can) while they biked to the splash pad. I always bring a book to read while the children play - currently re-reading The Well-Trained Mind. Like breakfast, I like to take advantage of the stillness of the hour, and we read aloud. Today we finished up "Carry on, Mr. Bowditch." A true story that brought many, many tears, and was so inspirational!




12:50pm We arrived home and I dumped the rest of the tuna on a salad, added avocado, and sat down to slowly eat my lunch while the children got out of their wet clothes and into bed. Whenever we are outside for lunch, I don't have to tidy the kitchen!




1pm Nap Time (for all) Each child goes to their own quiet space, and I lay the 2 year old down for his 2 hour nap. Then I snuggle and read a special picture book with the 3 year old before tucking him in to sleep. I call one of my big kids to the living room couch and they read to me for 20-30 minutes, before I call the next in to read for the same amount while the other child goes back to their room to listen to books on tape (Current Favorite for my five-year-old is "Black Beauty", and my six-year-old is loving the "Merry Adventures of Robin Hood" by Howard Pyle), color, or look at books. We may also stack a quick "extra-curricular" lesson in here like brush drawing or paper slyod.

2-3pm is Mama's quiet time. I often write, take a nap if I feel like it, finish an online project or read. I love being creative, challenging my brain, learning new things, and applying and teaching what I am learning. This time also serves as a welcome buffer in my day when I am morning sick, or have gotten up very early . . . I always know I can nap in the afternoon. Today, I . . . wrote this blog!

3pm Quiet time ends with a snack. In the winters we usually read picture books as the kiddos trickle in one-by-one, but during these beautiful days the children rush outside to snack and play while I finish up what I've been doing.

In the afternoons we work on projects. If Daddy comes home early, we will bike a couples miles to the river, with the two little boys in a bike stroller and the 5 & 6 year old on bikes. But I have about 6 weeks left until baby arrives and a list of 46 projects to complete before then, so most often I have an organizational or home project I am working on. Today the children jumped on the trampoline in the sprinkler while I canned pinto beans, and popped in every once in awhile to help. They know that they are always welcome to join in, or to entertain themselves. Mama never entertains when she's doing projects.

4:30pm On Thursday night, Lucy and I prep all our meals for Friday through Monday, so they are easy to throw together. The rest of the week, I usually I prep some part of dinner in the morning while I make breakfast, unless it's an easy meal like tacos, hamburgers, spaghetti, barbecue drumsticks, etc. so dinner never takes that long. This morning I had Sourdough Hamburger buns prepped, and a pork roast in the crockpot, so it was easy to slice some watermelon, make some coleslaw and grab a bag of chips.



5pm ish Dinnertime! We eat early around here. This is partially due to my intermittent fasting schedule and Elisha's and my goal to eat a few hours before we go to bed to give food time to digest. The kiddos head back outside to play after dinner while Elisha and I visit and clean up. (We get a LOT of outdoor-play in over here.)

6pm Tonight the kiddos begged for a family walk, per usual, so we headed out on our neighborhood walking paths to continue visiting while the kiddos wore themselves out one more time before bed.

6:30pm Family time in the living room is our favorite way to end the day. This consists of a variety of:

- Bible Time
- Singing Hymns
- Poetry Recitation
- Telling Daddy what they Learned that day
- Scripture Memory
- Reading "Little House on the Prairie."
7:30pm The children all head to bed around 7pm in the winter, but now that the days are longer, we do baths, and usually end up tucking everyone in at 7:30pm where they visit (or wrestle, when it comes to the boys) or look at books until the light fades.


Sometimes Elisha and I squeeze in recording a podcast in the garage, or have an at-home date night, but most often we part ways and plan our next day, shower and unwind. Tonight I folded a quick load of laundry while listening to a podcast, finished a few emails, and caught up on logging the days in my notebooks. I filled in the kiddos out-of-door chart, finished tracking what I ate, my water intake, my fasting schedule and workout, and wrote out a to-do list for the next day based off of my weekly brain dump.

I love a good pen and paper session combined with that feeling of accomplishment at the end of the day and eager expectation for what the morning will bring.

9-9:30pm Elisha and I usually find ourselves in bed pretty early these days and catch up, read (currently loving, We are What We Eat: A Slow Food Manifesto) and usually are asleep by 10pm.

Well, that was a LOT, but I'm not surprised to discover, yet again, I am long-winded. I hope you enjoyed this little glimpse into one of our days!

Hugs!
Katie
If you are looking to create more systems that simplify your home, check out Katie's Free Masterclass to learn her top three tips for creating a peacefully productive home!
Enroll Now!
Stay connected with news and updates!
Join thousands of other readers of Elisha's hilarious weekly newsletter, Top 5 Tuesday! Every Tuesday you'll get exclusive family updates, links to our weekly booklist, new podcast episodes, and first access to new products and posts like this one!